Photo by Christina @ wocintechchat.com on Unsplash
Coaching questions are an important element of a coaching process, but they can also be useful outside coaching. Here we will look at what they are, how to make them powerful, whether AI can ask them and how to use them outside of coaching.
Coaching is the art of asking powerful questions. Timely and relevant questions help the coachee get new insights and see the world from a new perspective.
The coach doesn't tell or advise, the coach asks.
Thus, questions, particularly powerful ones, are the most critical tool in the coach's toolkit. A coach has many arrows in their quiver, but the coaching question is the most important one.
The good news is that coaching questions are not only for coaches. The type of questions coaches ask can also be valuable for other non-coaching people, be it managers, parents, or simply good friends, as they can help unstuck situations or foster learning for the people on the receiving end of the questions, and often also for the people asking the questions themselves.
As we are treating questions as a tool, let's also structure this post around some questions, which are the following:
– What is a coaching question?
– What makes a powerful coaching question?
– What are some examples of great coaching questions?
– Can AI ask good coaching questions?
– How can you use coaching questions outside of coaching?
What is a coaching question?
As I explained in the post linked above, Powerful Questioning was one of the 11 competencies of the coach defined by the International Coaching Federation (ICF).
Asking questions is an integral part of coaching, even better if they are powerful questions, although not all coaching questions are powerful. They can't possibly be. They would lose their impact if they all were.
As we discussed several times in this blog when talking about coaching, a coach doesn't give advice or tell their clients what to do, but they ask them questions for them to reflect, see their blind spots and get insights and new perspectives, to then put in place actions that will enable them to solve problems and grow personally and professionally.
Thus, a coaching question is the everyday tool of the coach and is their primary means to affect change in their clients.
Coaching questions characteristics
Coaching questions have the following characteristics:
– They are open questions (so they start with what, where, who, how, etc.), not closed ones (the ones answered by a simple yes or no), that can often be leading and akin to giving advice ("don't you think this course of action would be better?"). They must leave space for the client to create their own responses.
– They usually look at the future, goal achievement or a solution, not the past or where the problem is coming from. Coaching is future and goal-oriented, and this is reflected in the questions coaches ask. There might be some questions about the past and the sources of the problem to get some context and understand the starting point, but the main focus of the discussion should always be the goal and the direction of travel.
– They come from active listening based on what the coachee just said. The most powerful coaching questions come from great listening. That's why the coach must be always present in the conversation and listening, not thinking about the next question they will throw at their client. They need to switch off their internal radio. This is why having a list of "top coaching questions" ready doesn't usually work.
– Often, coaching questions explore new options and new alternatives, and help the client put themselves in other people's shoes or look at things from a different perspective than what they were doing until then.
What makes a powerful coaching question?
As already mentioned, in coaching, we have what we call powerful questions. It sounds like something mystic and esoteric, but it is relatively simple. A powerful question is a question that elicits a strong response from the client and makes them react. It brings new learnings and new possibilities. An aha usually follows it!
When you are a coach and land a powerful question, it's beautiful. The client stops for a moment, you see them think, and their faces change into something resembling surprise first, then understanding and enlightenment, then satisfaction when they have understood something new they didn't know before. That experience is one of the most rewarding ones I have ever had professionally. You see people grow in front of you, literally. That happens because many things come together, but a powerful question is usually one of them.
But what is a powerful coaching question? It follows from the characteristics listed above that a good coaching question will be the one that arises from active listening from the coach. It is future and goal-oriented, open and not closed, and opens new possibilities and insights to the coachee.
The ICF defines on its website what Powerful Questioning means, as it used to be one of the main competencies of the coach:
Ability to ask questions that reveal the information needed for maximum benefit to the coaching relationship and the client.
Asks questions that reflect active listening and an understanding of the client's perspective.
Asks questions that evoke discovery, insight, commitment or action (e.g., those that challenge the client's assumptions).
Asks open-ended questions that create greater clarity, possibility or new learning.
Asks questions that move the client toward what they desire, not questions that ask for the client to justify or look backwards.
What are some examples of great coaching questions?
The astute reader who has been paying attention will have already noticed that it is impossible to provide real examples of powerful questions because they depend on the situation and the conversation. They are asked from a place of presence and listening.
Great powerful questions are contextual, meaning it is impossible to go to a coaching session with a list of great coaching questions and shoot them away, expecting to hit a nerve and change the way the client looks at the world. It probably won't happen.
Still, some types of questions, or variants, are worth asking as, depending on the situation, they may serve their purpose and become powerful questions.
There are different phases in the coaching process, and each stage will have its own appropriate questions:
Setting goals and coaching agreement
– What would you like to achieve with this coaching process?
– What is the main challenge you are facing? What is your main goal?
– What are the main barriers hindering you from achieving your goals?
– Why is this goal important for you? What is the purpose of this goal? What is it for?
– How will you know you have achieved this goal?
– Can you visualise yourself achieving this goal? What do you feel?
– What would happen if you didn't achieve this goal?
Exploring the challenge
– How does person X or Y see this situation? What are they doing what they are doing for? What is their purpose? Is there any other reason why they could be acting like this?
– How will your life change if you change this one thing?
– What other ways are there to look at this challenge/problem/opportunity?
– What emotion are you feeling when facing this challenge? What is this emotion telling you about yourself and your situation?
Setting up an action plan
– Now that you see things differently, what will you do differently?
– How will these actions help you?
– What new learning did you get? How will this learning change your life moving forward?
– If you were X, what other actions could you take?
– What is the purpose of these actions? And their expected impact?
– How will you measure the success of these actions?
I will repeat it because this is critical: powerful questions come from listening and will be the consequence of a well-managed conversation. This list can give the reader some ideas of the type of questions to ask to open the coachee's mind, but the real powerful questions will be more specific and more in tune with the story they are telling and their personal narrative.
What good powerful questions have in common is that they make the recipient think and see things from a different perspective. That's why a few questions above try to position the client in someone else's shoes or look at a problem from different viewpoints.
Also, powerful questions often dive into the purpose of things, the what for (looks at the future and intentionality), rather than the why (past, causes).
There are thousands of great questions that aren't included in this list that can tick and impact the client depending on the conversation and their internal state.
A few months ago, I asked a manager who was questioning his leadership style how they would feel if they were managed by a manager who had the same leadership style as him. He didn't like the answer to that question, but the question left him a mark, and today he still thinks about it now and then. A good question can come from anywhere.
On the other hand, the questions in the list above can, in many cases, fall flat and have no impact whatsoever on the client, or they can even alienate them and distance them from the coach.
It will all depend on the listening from the coach and their intuition that they are asking the right question at the right moment.
Can AI ask good coaching questions?
For all I have said about listening being the best necessary condition for asking great questions, it is weird that we should ask whether Artificial Intelligence can produce good coaching questions, but ask it we must, as things are changing very rapidly in the world of AI.
In The Future of Coaching, written a couple of years ago, I wrote about the possible arrival of the Robocoach sometime in the future, but I concluded that future was still far away.
I still think we aren't there yet, but considering the advances of AI since that article was published, we may have to move the timelines ahead.
Right now, all the talk in AI is about ChatGPT, and from what I heard, it is not even the best AI out there. It has been a sensation because it is now open to the public for free, so people are using it and commenting on it on Twitter and other media. That creates hype.
I also decided to use it to test it and help me with this article. First, I asked it to tell me what it knew about coaching questions. It came up with this.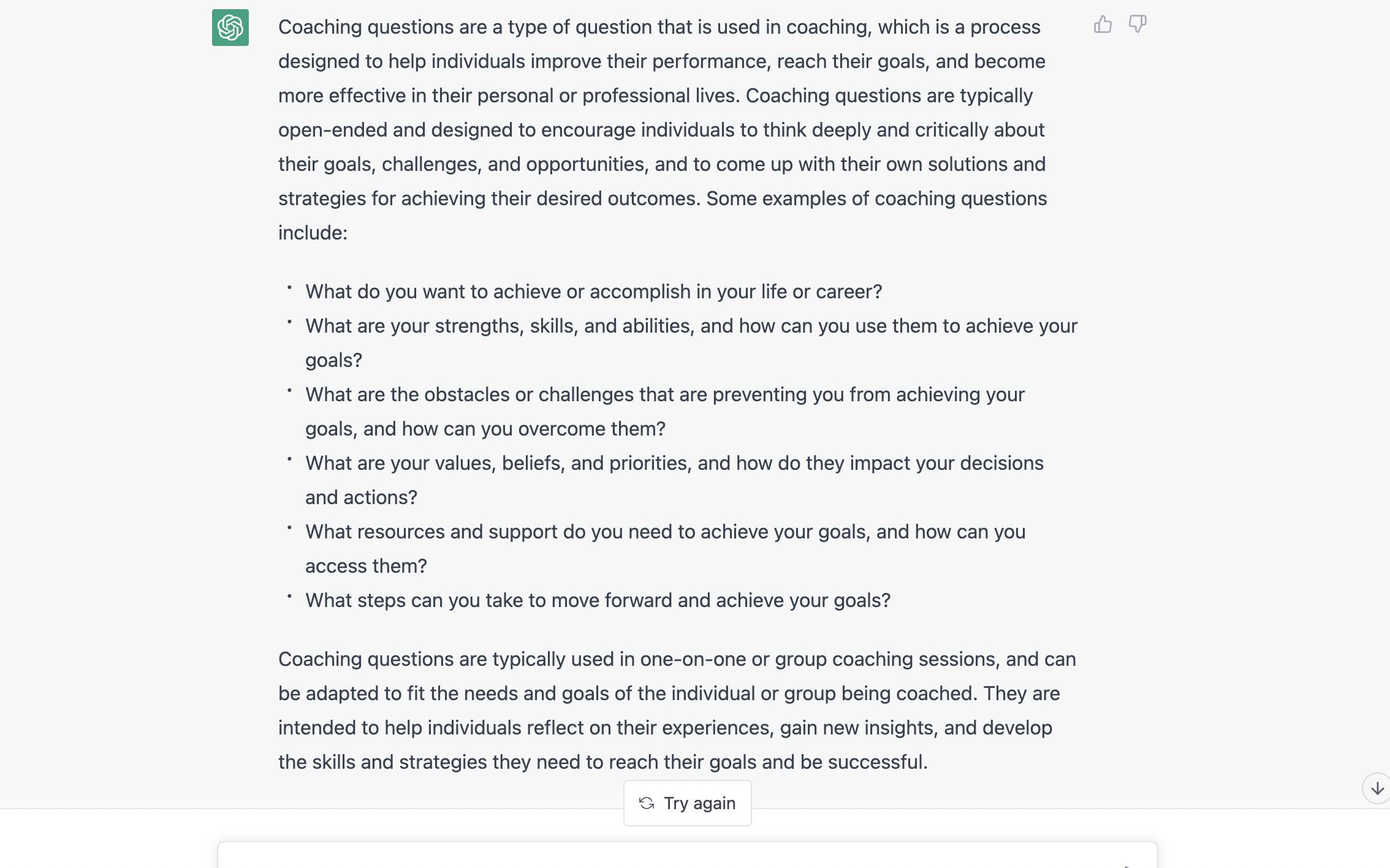 It's not too bad. It is a bit simple, with a neutral tone and no irony or sense of humour, but it is informative. It may not be good enough to replace a well-written blog post with a personal touch, but it is getting perilously close. That's a discussion for another day, though; the question today is whether it can ask good coaching questions.
So I asked the AI to act as my coach and help me solve a relatively common challenge, namely how to delegate more and better. You can see the conversation below: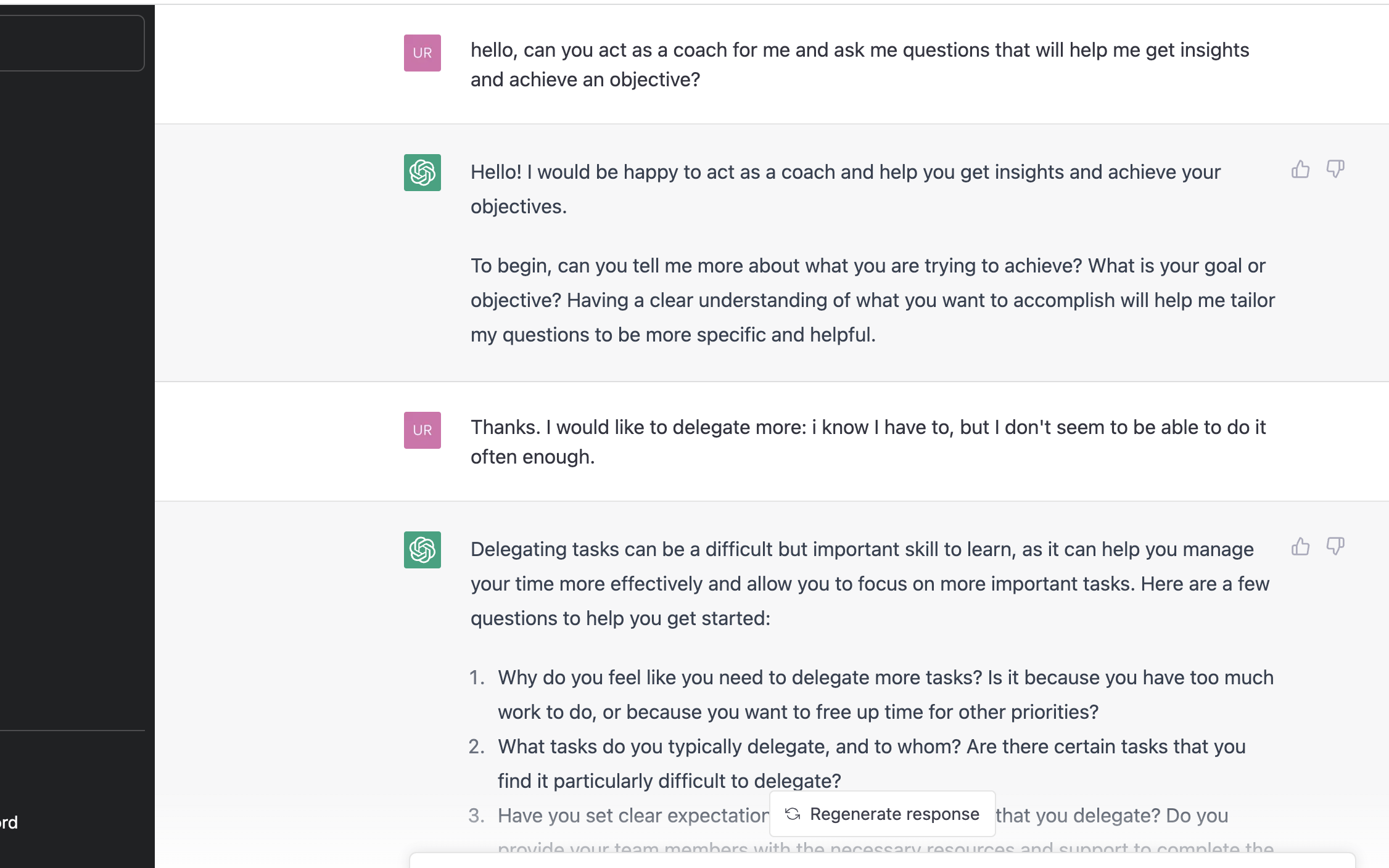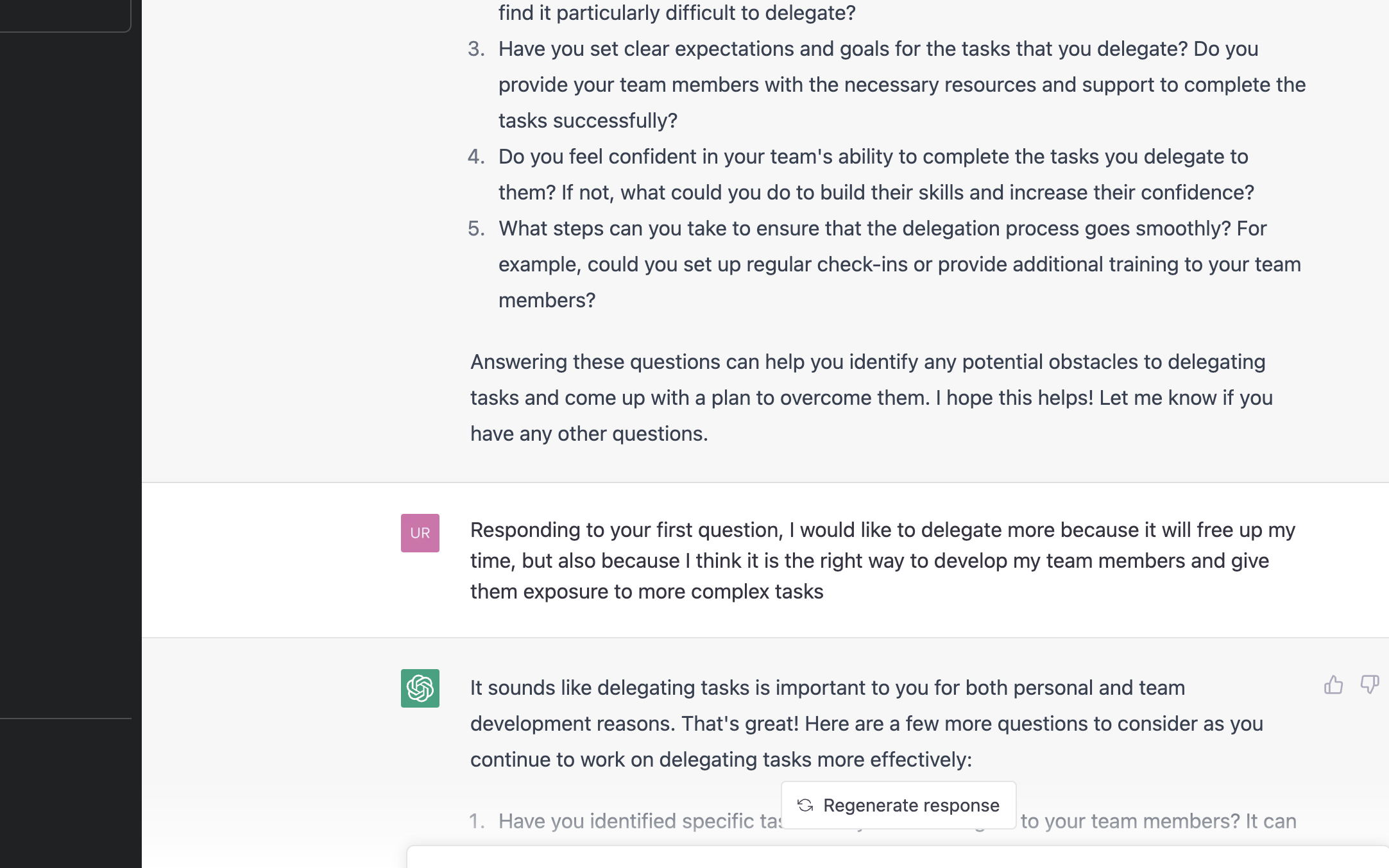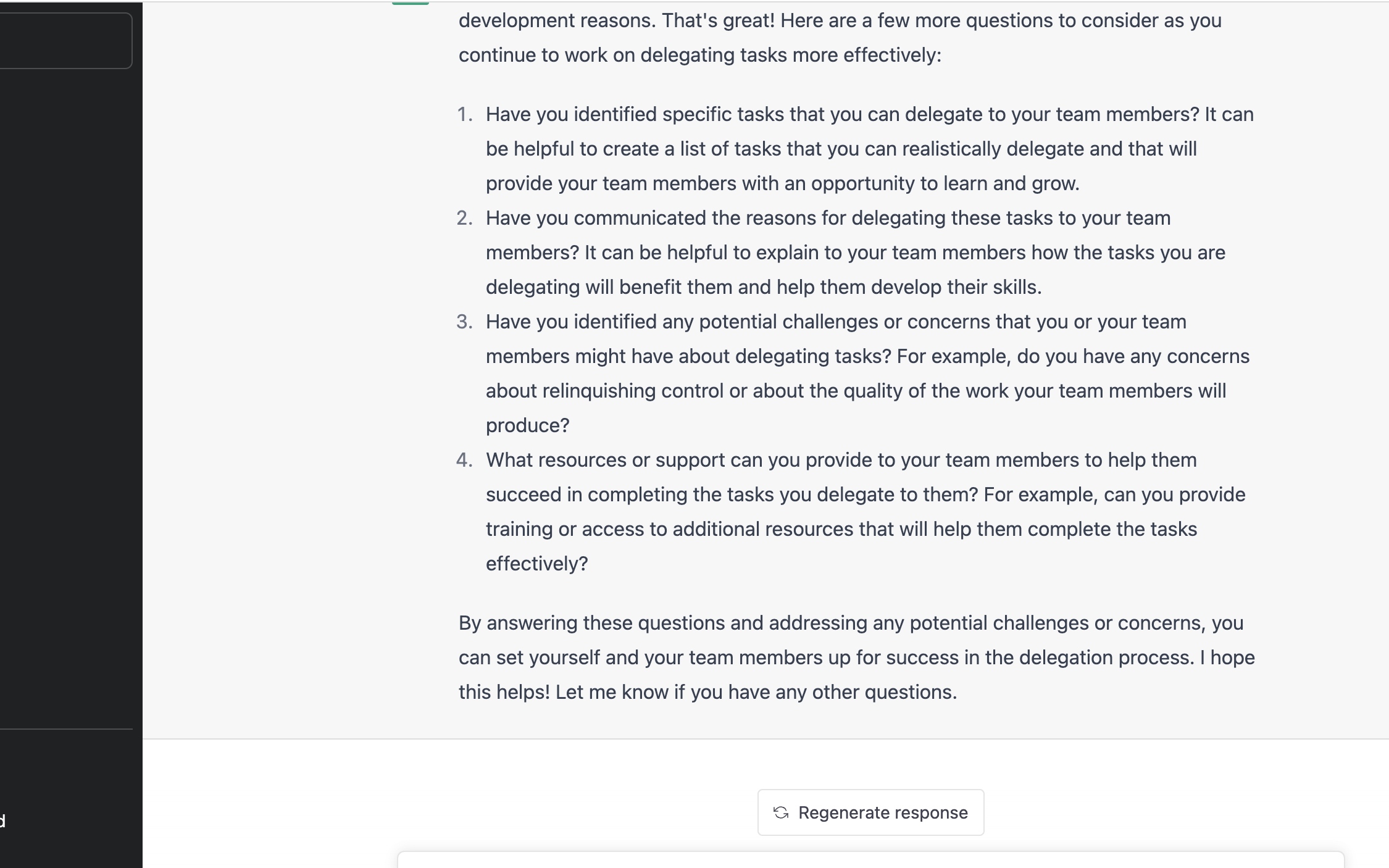 What did you think? I found that a bit creepy, and it has its uses, but this is not coaching yet. Chat GPT is like an Alexa on steroids, and it provides some interesting questions and good explanations, but we are looking for something else in a coach.
A coach not only asks excellent questions but is also present with their whole body, making the client feel listened to. They need to create an emotional connection and interpret what the client is going through.
Also, the entire body has an important role to play in coaching. A coach must understand the client's body language and use their own body to elicit change in the coachee.
A machine cannot do any of this today, and I'm not sure when they will be able to do so soon. I'm sure they will be able to one day, but that day hasn't arrived yet.
How can you use coaching questions outside of coaching?
Coaching is not only a personal development method but also a philosophy of life. You need to be trained and have some practice to coach others successfully, but anybody can take advantage of the techniques used in coaching to improve their lives and those of the people around them.
I am a certified coach but have also been a people manager, and I often mix the two disciplines. That means that when one of my team members came to me with a challenge or a question, my first instinct was not to tell them what to do but to ask them back the same questions they were asking me, so they had to think the problem through themselves. This is the best way I know for them to grow and learn.
They would tell me something like this, "Hi Iker, I have a problem with this manager I am advising on this HR topic. They don't want to follow my advice. What can I do to influence them better?"
Rather than telling them, "you should do this and that", which is often the easiest way, I would always ask them back, "what do you think you should do? And why? What can you do better? What are you lacking in your approach today?" And so on and so forth.
It's easy to ask questions to your manager; it is also lazy to expect an answer straight away. As managers, we need to help our people think for themselves. Giving them the correct answer doesn't help them flourish. So that's why as managers, we should ask more questions and tell less, like coaches.
When you ask an open question to someone, you are putting them in the driving seat. You are making them protagonists. They are the ones who will be providing the answer, so they are the ones who will have to think it through.
The same applies to friends, your partner, and many other personal situations. Tell less, and ask more genuine open questions. People will appreciate your interest in their lives and opinions more than you telling them what to do or oversharing your views.
How do you make sure you are asking the right questions? Follow the indications above: make them open, not leading or closed; ask about the future more than the past, and above everything else, make sure your questions come from you really listening to what they are saying.
If you listen to what the other person has to say and have a keen and genuine interest in their words, great questions will flow. They will come naturally, and there is no better question than the natural one. Try it, and, who knows, you may enjoy talking less and listening more.
There is a balance for everything, of course. So please don't be that person trying to coach all their family members and friends, because they won't appreciate it. Coaching questions have their time and place.
Ask more open questions and be interested in what others have to say, by all means, but find the right balance. Above everything else, continue being yourself and acting as a manager, friend, father, or lover.
Use more coaching questions in your life, but find the right time and place for them.
Read more: How Coaching Exercises Can Help You Develop into a Successful Future Leader